happy to hear from you! Office hours below
22655 Peacock Lane
Bend, Oregon 97701
Office Hours
Monday-Saturday
8:30 am – 12:00 pm
3:00 pm – 5:30 pm
5:30 pm -7:00 pm available by appointment only
Sundays
Office is closed, pick up and drop off by appointment only between 9:00am – 10:00am or 4:00pm – 5:00pm
Lodging Checkout
Dogs must be checked out by 12:00 noon.
After 12:00 noon, a $20.00 day fee will apply
Monday-Saturday extended drop-off and pick-up times:
Drop-off only 7:15 – 7:30 am, $5
Pick up only 8:15 – 8:30 pm, $15
All dogs benefit most when dropped off between 8:30 – 11:00 am or 4:00 – 4:30 pm.
Holidays
Closed
book a stay
To make a reservation please call 541-382-9223 or email info@bendunleashed.com 
A deposit* is required at the time of booking, rooms will not be held without a deposit.
3 night minimum stay during holidays
*one-night fee for stays less than 5 nights, 50% fee for stays 5 nights and longer and stays of any length during holidays.
easy directions
PLEASE NOTE: Our facility is best found if you Google Map for Epic Air instead of our address. The directions are more straightforward. We're directly on the opposite side of the road from them.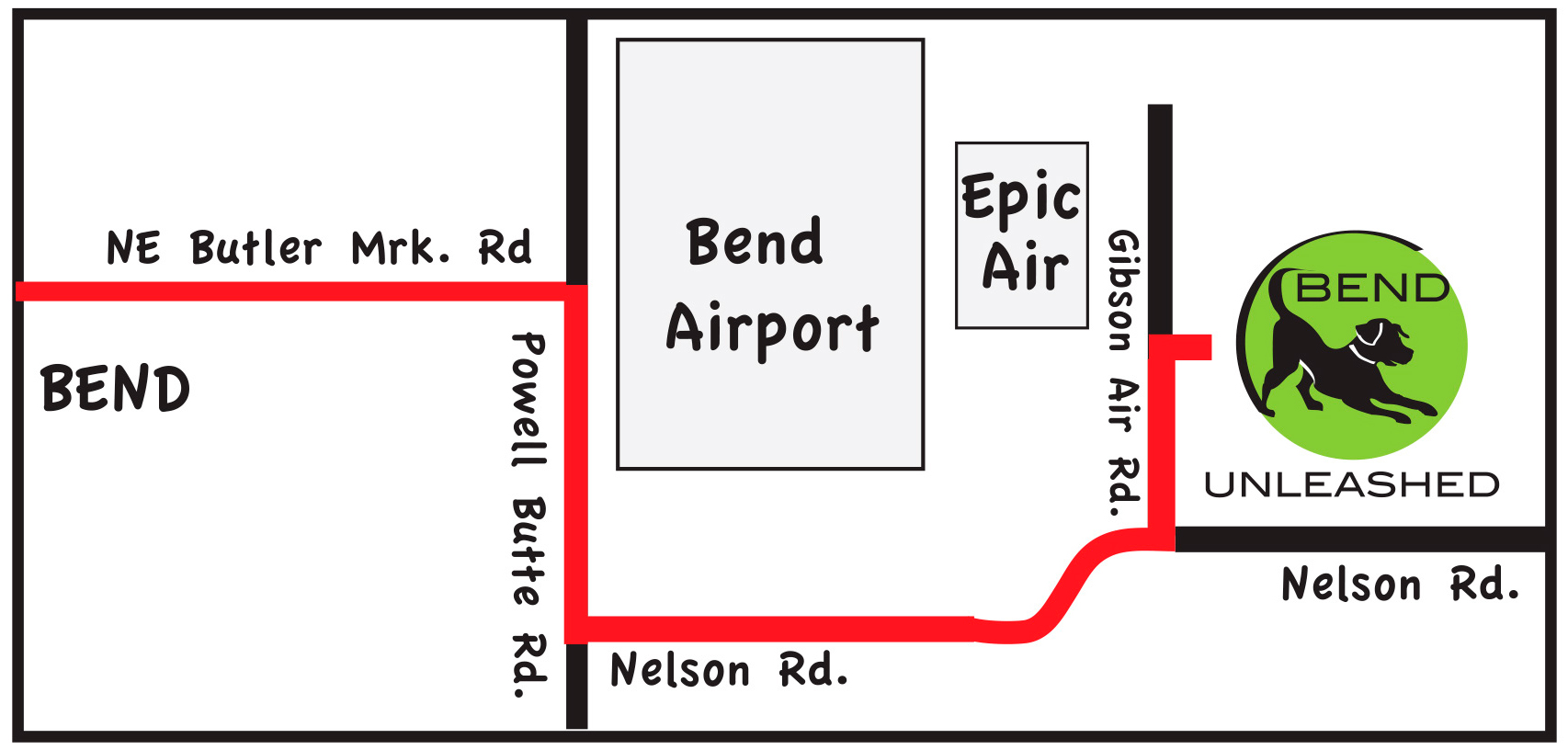 Where your dog enjoys 
exceptional
care and love while you're busy or traveling

This endpoint has been retired
LOCATION 
22655 Peacock Lane Bend, OR 97701
22655 Peacock Lane
Bend, OR 97701
8:30 am - 12:00 pm
3:00 pm - 5:30 pm
see full hours here
In order to devote more time to our happy dogs, we are unavailable between 12-3 pm.
Instagram
[instagram feed goes here]